REQUEST A CALLBACK
SOLAR BATTERY

STORAGE
WHAT IS A SOLAR BATTERY SYSTEM?
A solar battery system stores excess electricity produced by a solar system, which can be used later if and when required, especially when the sun's not shining.
HOW DO SOLAR BATTERIES WORK?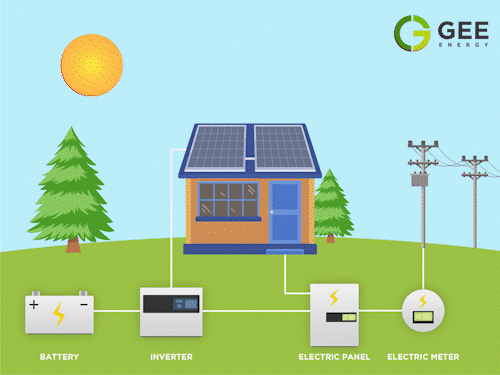 Excess power generated by a solar PV system is transferred to batteries for storage.
The surplus energy can be utilised onsite when solar panels are not able to produce optimum power, for example at night.
In an on-grid system, you can use power from the grid once the battery stored power is depleted.
BENEFITS OF SOLAR BATTERIES
SOLAR BATTERY SYSTEM RELATED FAQs
Solar batteries usually last anywhere from 5 to 15 years depending on usage, brand, and type.
Yes, you can add a battery storage solution for your existing solar PV system provided its inverter is compatible with the battery. To check whether your system qualifies for a battery, connect with GEE's solar consultants for a free consultation.
Yes, but it depends on your power consumption pattern and energy generation capacity of your solar system.