From a 50kW on a small parcel of Business Roof to 50MW in the outback, GEE have the expertise for your next project.
REQUEST A CALLBACK
POWER PURCHASE

AGREEMENTS
WHAT IS A SOLAR PPA?
If you want to avail the various benefits of commercial solar power without having to own, operate, or maintain an entire system, then a Solar Power Purchase Agreement is the best option for your business!
A Solar Power Purchase Agreement (PPA) is a contract between two parties – one that produces solar power (the provider) and one looking to purchase electricity (the customer) generated from the solar system.
HOW DOES SOLAR PPA WORK?
In the role of customer, a business entering into the PPA arranges for the space to install and mount solar panels. Their PPA provider takes on full financial responsibility for the solar system, including the installation, maintenance, and ownership. The customer buys electricity generated by this system from the provider at agreed rates for an agreed term.
Here's a brief explanation of how a solar PPA works for businesses.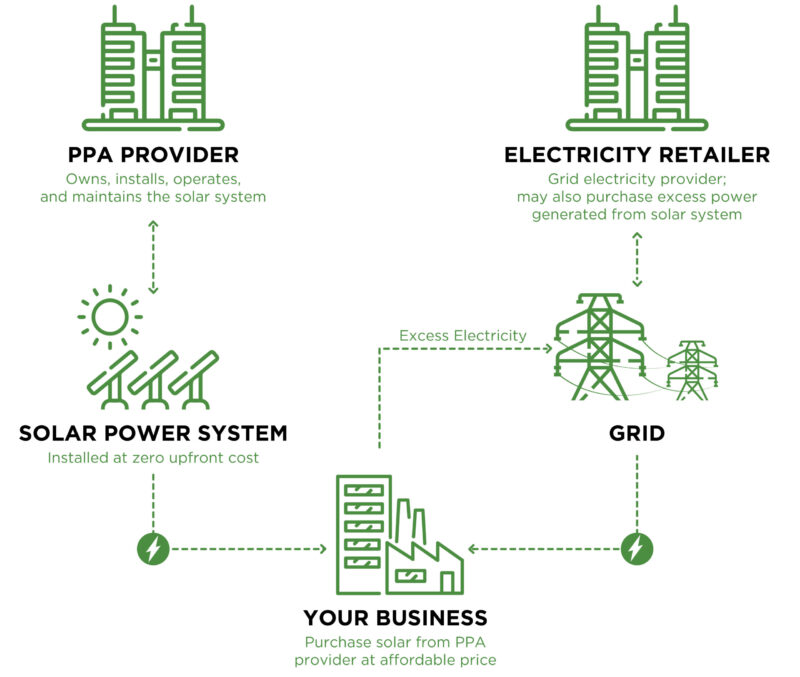 WHY CHOOSE GEE FOR SOLAR PPA?
When considering opting for solar through renewable PPAs, it is important to ensure that your PPA provider is a CEC-approved solar retailer.
GEE Energy is Australia's trusted energy company with a team of experts dedicated to fulfilling any energy requirements for customers across the nation. Apart from providing PPAs, we have also successfully completed large scale commercial projects for various C&I clients.
When you choose to go for a solar PPA with us, we will buy the system on your behalf, while you just purchase the power it generates for your business (at a far lower price than what you are currently paying for grid power)!
TYPES OF SOLAR PPA
The type of solar PPA a business agrees to depend on the kind of solar system installation it has decided to go for to fulfil its energy needs. Let's explore it further.
BENEFITS OF COMMERCIAL SOLAR PPA FOR BUSINESS
By agreeing to a Solar PPA with a CEC-approved solar retailer like GEE Energy, you just have to buy the power generated and avail various benefits of commercial solar without having to own, operate, or maintain a solar system – we will handle everything!